Our Online Courses
Explore all of our available online courses below.
Understanding Challenging Behaviour
---
Various factors contribute to challenging behaviour, such as anxiety, neglect, abuse, learning disabilities, and dementia.
An online qualification offers an opportunity to enhance understanding of challenging behaviour, emphasising communication, its causes, and its effects.
Children & Young People's Mental Health
---
Approximately 1 in 10 children and young people experience mental health problems, highlighting the need for understanding among those working with them.
This level 2 course is ideal for individuals seeking to learn about mental health issues affecting children and young people, including depression, and anxiety.
The course also covers factors influencing their mental health and the potential consequences of mental health problems on their well-being and lives.
Counselling Skills
---
Counselling is valuable for various individuals, and counsellors can assist people in diverse circumstances.
This course offers the knowledge necessary for those interested in helping others enhance their personal well-being, focusing on core skills application within a counselling relationship.
Mental Health First Aid
---
Approximately 450 million people are currently affected by mental health problems, highlighting its widespread impact.
Over 12 million workdays were lost in a year due to stress, depression, and anxiety.
Employers promoting mental health transparency and staff understanding can create a supportive workplace. This course teaches support skills and workplace mental health awareness.
Mental Health in the Early Years
---
Early childhood is a crucial period for development, with attachment and adverse experiences playing significant roles in children's mental health.
Traumatic early experiences can have long-lasting effects on children's mental health, potentially leading to concerns in later life.
This course covers mental health in early years, emphasises attachment and adverse experiences, and educates early years practitioners on supporting mental health and well-being.
Understanding Autism
---
In the UK, there are approximately 700,000 autistic individuals, representing more than 1 in every 100 people.
This course is a valuable opportunity for those working with autistic individuals or having autistic acquaintances to enhance their understanding of the condition.
Participants will gain insights into how autism impacts communication, interaction, and information processing, as well as how to facilitate healthy and fulfilling lives for autistic individuals.
Principles Of Dementia Care
---
Our free online course, Principles of Dementia Care, is for dementia caregivers, focusing on understanding and effective care.
It covers dementia-related approaches, and communication skills, and supports Standard 9 in the Care Certificate for Health and Social Care professionals.
Gain insights into mental health and workplace support.
Principles of End-of-Life Care
---
Our free online End-of-Life Care course equips you to care for individuals nearing the end of their lives.
You'll learn to provide pain and discomfort management, understand dementia's impact on end-of-life care, and offer support to grieving family and friends.
This comprehensive course covers various aspects of end-of-life care, including mental health and early years' practitioner roles in supporting mental health and well-being.
Prevention and Control of Infection
---
The free online Prevention and Control of Infection course safeguards against infection spread, promoting health in care settings.
It's essential for all caregivers to understand infection prevention and management, and ensure safety.
Completing this course in a Health and Social Care setting aligns with Standard 15 of the Care Certificate, focusing on "Infection Control."
Safe Handling of Medication
---
Our free online Handling of Medication course is crucial for those responsible for medication management.
Understanding the proper use and handling of powerful medications is vital to prevent severe or fatal consequences.
Completing this course in a Health and Social Care setting aligns with Standard 13 of the Care Certificate, focusing on "Health and Safety in relation to administering medication."
Mens Mental Health
---
Our free online course, Men's Mental Health, addresses various mental health issues affecting men, such as depression, stress, anxiety, and PTSD.
Participants will gain insights into recognising signs, symptoms, and triggers of poor mental health.
Additionally, the course explores the gender-specific differences in how certain mental health conditions manifest in men compared to women.
Customer Service
---
Our free online Customer Service course enhances skills to deliver exceptional customer experiences, vital for business success.
Ideal for those in customer service roles, this Level 2 course helps meet customer needs, provide outstanding service, and utilize feedback for improvement.
Gain insights into effective product and service marketing strategies while boosting customer service proficiency.
Principles of Business Administration
---
Our free online Principles of Business Administration course enhances your ability to provide high-quality support to your workplace.
Whether you're expanding your existing knowledge or acquiring new skills, this course equips you for an administration job role.
It covers various aspects, including daily and complex administration tasks, information management, communication development, and fostering effective working relationships with colleagues.
Principles of Team Leading
---
Our free online Principles of Team Leading course enhances your leadership abilities, promoting effective leadership in various forms.
Gain essential skills and confidence to lead effectively, addressing common challenges in people management.
The course covers principles of team leading, different leadership styles, techniques to enhance team performance and strategies for motivating your team.
Adverse Childhood Experiences
---
Our free online Understanding Adverse Childhood Experiences course provides insights into the vulnerability of children and young people to adverse circumstances.
Learn how adverse childhood experiences can affect development and mental health, potentially extending into adulthood and impacting life opportunities.
Gain a deeper understanding of the profound influence of adverse experiences on the lives of children and young individuals.
Creating a Business Start-Up
---
Our free online Creating a Business Start-Up course improves your grasp of essential initial processes for a successful business launch.
Suitable for aspiring entrepreneurs and business plan refinement, it provides the necessary skills and knowledge.
Given the 30% failure rate within the first two years for over half a million annual business startups, this course enhances your chances of success.
Data Protection & Security
---
Our free online Understanding Data Protection & Data Security course focuses on developing knowledge in data protection compliance, a crucial legal obligation for organizations.
With the implementation of GDPR in May 2018, it's essential for anyone handling personal data to comprehend and adhere to the laws due to potentially severe penalties.
This course ensures individuals are well-informed and compliant with data protection regulations to mitigate legal risks.
Information, Advice or Guidance
---
Our free online Information, Advice, or Guidance (IAG) course enhances your ability to provide clear and accurate information, advice, or guidance, benefiting business outcomes.
Understanding the legal and professional boundaries of information sharing is crucial for successful IAG.
Equipping staff with knowledge of these fundamental rules ensures effective and ethical information-sharing practices.
Principles of Cyber Security
---
The Principles of Cyber Security course is designed for individuals seeking to grasp the fundamentals of cyber security in the workplace.
Cyber security awareness is vital not only in professional settings but also in our personal lives, given the growing reliance on cyberspace.
As our dependence on digital technology continues to expand, the need for cybersecurity training has never been more critical to address evolving risks effectively.
Safeguarding and Prevent
---
Our free online Understanding Safeguarding and Prevent course is designed for individuals responsible for safeguarding and preventing radicalization.
The course covers recognizing signs of abuse, reducing radicalization risks, and addressing potential consequences of illegal online activity.
This training is essential for those committed to ensuring the safety and well-being of individuals while preventing radicalization and online harm.
Understanding Specific Learning Difficulties
---
The free online Understanding Specific Learning Difficulties course provides insights into conditions like ADHD, dyslexia, and dyscalculia, enhancing understanding.
These specific learning difficulties impact approximately 15% of the population, underscoring the significance of healthcare professionals, social workers, and educators comprehending these conditions.
Gaining knowledge in this area is crucial for better support and inclusive practices, especially considering the prevalence of specific learning difficulties among individuals.
Understanding Coding
---
Our Understanding Coding course is ideal for beginners interested in coding, a foundational skill for software, app, and website development.
Coding is the backbone of digital technology, encompassing web browsers, operating systems, mobile apps, and more.
In today's digital age, this online course offers an excellent opportunity to boost your knowledge and keep up with the evolving digital landscape.
Understanding Domestic Abuse
---
The Understanding Domestic Abuse course is designed for those responsible for responding to or supporting individuals experiencing domestic abuse.
This includes employers, educators, health and social care professionals, and anyone involved in safeguarding vulnerable individuals.
Understanding and raising awareness about all forms of domestic violence and abuse is essential, including emotional abuse alongside physical abuse.
How Do I Sign Up?
Learners need to first check if they are eligible for funding, meaning the course won't cost a thing to complete subject to eligibility. This can be done by selecting the course they would like to study and submitting an application through the enrol button. There is a £125 cancellation fee if a learner enrols and fails to complete or withdraws early from the course. This fee is to cover administration costs. We may be able to offer extensions if learners are unable to meet the set submission deadline. Please read the declaration on the enrolment form carefully before signing up.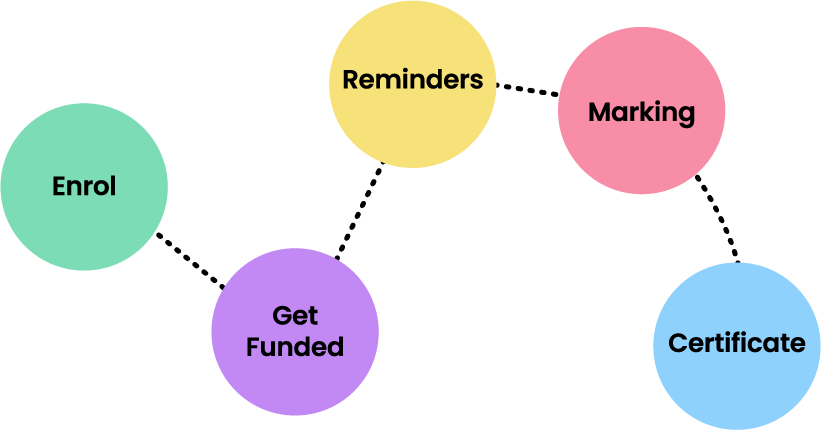 What Happens After Enrolment?
Contact Us
We hope you found the right free online courses for you at CT Skills. But that's not the end… explore your knowledge on challenging behaviours, counselling skills, and more by enrolling on another free online course or having a look on our apprenticeships page to take a big step into the perfect career for you! For any queries or questions on this, don't hesitate to get in touch via email or our socials including Facebook, Instagram, and Twitter!